Great success at ICMSE Pre-conference
GRK2062 PhD-students Chiara Gandini and Martin Rossa were both awarded with a Poster Prize
27.08.2017
List of all winners:
Poster Prizes
1. Martin Rossa, Ludwig-Maximilians-Universität München
2. Simone Wouters, Eindhoven University of Technology
3. Chiara Gandini, Ludwig-Maximilians-Universität München
4. Yasunori Okamoto, University of Basel
Oral Presentation Prize
Tomaz Einfalt, University of Basel
For this year's retreat, our GRK 2062 teamed up with two other European graduate schools with very similar scientific aims: The Research Center for Functional Molecular Systems from the Netherlands and the NCCR Molecular Systems Engineering from Switzerland. The schools jointly organized a pre-conference taking place at the University of Basel before the first International Conference on Molecular Systems Engineering (ICMSE 2017). During this pre-conference, the PhD students and postdocs were joined by Benjamin Davis, Vincent Noireaux and Roy Bar-Ziv, three internationally renowned researchers covering various aspects of synthetic biology. In addition to their keynote lectures, inspiring talks were given by selected postdoctoral researchers and PhD candidates of the three programs. During the poster session, posters by GRK 2062 members Martin Rossa and Chiara Gandini stood out and were selected for poster prizes. Beyond science itself, there were sessions about scientific publishing, the philosophy of life sciences, working in Start-Ups and a most entertaining science slam performed by members of the graduate programs, followed by a pizza party. In summary, the pre-conference offered great opportunities to present our science in a relaxed environment, and was especially instrumental in getting to know fellow PhD students from the other two graduate schools. The already sleep-deprived junior researchers then continued to attend the main conference, which featured some of the most esteemed researchers of our field. Another highlight was the conference dinner at the Roche tower that followed a keynote lecture by Nobel laureate Stefan Hell. And between all of this, the GRK members even found some time to get to know the charming city of Basel.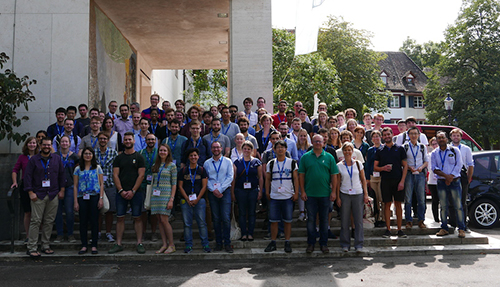 Goup Photo ICMSE pre-conference: Kollegienhaus Basel, Switzerland, August 27, 2017